The Underground World of New York's Secret Parties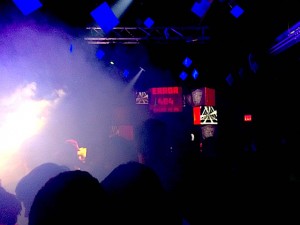 This is interesting but I'm not sure if it's legit or a gimmick. Lately there has been an increasing trend towards secret location parties and events in NYC.  You may hear buzzwords like "roving location" "nomadic" "secret location parties" etc.  One of New York City's largest "secret parties" was a few weeks ago. It's called "
Diner en Blanc
" and it's basically a pop-up picnic party. Somehow, I ended up being the recipient of a few of these invites and I honestly just don't get it. You basically pay money to be part of an "elite" group of insiders who know where and when these secret events are.  But being "secret" doesn't necessarily mean that the event is good or any better than any other published location event. So basically you pay for a ticket to an event where you have no idea where it's going to be, with the implied understanding that it's going to be so great that you don't need to know the location and you're simply lucky enough to be "in the know."  On the positive side, there's a bit of excitement as you wait for that email containing the details to arrive, but there's also an element of let-down if it turns out that the location isn't that great or is too far from where you are. Additionally, there are well-founded health and safety concerns as some of these venues may be completely unregulated as discussed on legal websites such as
this one
. On the other hand, some of the secret dance parties can be quite good, they are truly underground parties. I mean seriously underground, as in under the city's surface, in abandoned subway stations, sites, buildings etc. These parties are totally illegal and could get you in serious trouble but attendees just don't care and have them anyway, often risking life and limb to get there.
Amazingly, Gothamist somehow gained access to an illegal abandoned subway party and managed to report and photograph it. For those of us who aren't included on that invite list, there's an easier way to check out secret warehouse parties — websites sell tickets to them. The way it works is you buy a ticket and at the last minute they email the location to you. I decided to see this for myself.  I went ahead and purchased a ticket to one of Error 404's secret location parties. And then I waited. And waited. Finally the location was sent to my email along with the details.  I did not recognize the location but decided to head over to Brooklyn and check it out. About a half hour later I found myself standing in front of a small warehouse/bar type of structure on an abandoned street. Two girls waved goodbye to the bouncer as I arrived. A minute later, a few Bushwick hipsters drifted past me holding their cigarettes. Entering the party, I soon realized that it was overcrowded. There was no room to move, it was hot, the air inside a combination of fog, sweat and smoke. The music was great. The DJ and the general atmosphere were fantastic and I would have stayed had the space been larger. See our video on You-Tube for a general idea of what the atmosphere was like at a recent underground secret party we checked out.
So what's the real secret about "secret" parties?  Nothing really. Except that you take a chance when you buy a ticket to an event where you have no idea regarding its location. Nor do you have any idea how many people will be there or what to expect. Exciting? Yes. Disappointing? Yes. It can go either way. You take a chance when you buy a ticket to a secret party. It could be amazing; it can also be a complete waste of time. Or you can return to the old tried and true method of buying tickets to events where you know exactly what you're getting. Less exciting but far more predictable.