On Wednesday March 9, 2016, premium organic retailer Seeds of Change hosted an international food tasting featuring sustainable locally grown organic produce at Studio 250 in Times Square. Guests were invited to sample & enjoy delicious innovative cuisine from around the globe. If you aren't already a fan of Seeds of Change, it's time to become one. I first discovered Seeds of Change while shopping at my local Whole Foods Market. I was searching for an organic nutritious whole grain brown rice product when I spotted the Seeds of Change section on the top shelf.  I reviewed the nutrition facts and information & method of preparation. Almost instantly I realized I had struck organic gourmet gold and purchased several packages of Seeds of Change Ready-To-Heat Rice. An incredible product line, it's certified organic, nutritious, delicious & ready to eat after 90 second in the microwave. Seeds of Change makes several varieties, including Seven Whole Grains, Brown Basmati Rice, Quinoa & Brown Rice, Quinoa and Brown Rice with Garlic, Brown & Red Rice and more.  Recipes may be found on their website at Seeds of Change Foods.com.  For an internationally inspired meal, Seeds of Change now offers Carribean & Spanish Style rice versions. We enjoyed trying out several of the recipes at their NYC Tasting event, beautifully presented & delicious!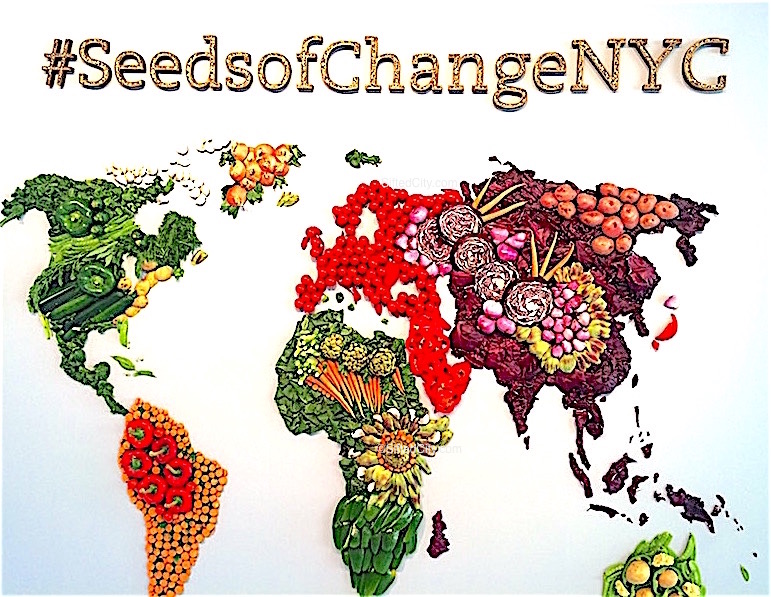 Seeds of Change is dedicated to providing nutritious certified organic foods; their mission statement (on their website) includes "preserving biodiversity and promoting the use of sustainable organic agricultural practices."  The #SeedsofChange NYC event showcased innovative internationally-inspired cuisine prepared using locally sourced foods.
To learn more about Seeds of Change, visit their website and/or head over to Amazon.com and read the stellar reviews written by consumers who've tried their products.