Queens Taste was recommended to me by someone who is one of New York City's most discerning foodies. Scheduled to take place on May 3,2016, my friend contacted me back in March to tell me to he was definitely going & had already purchased an early bird ticket. Immediately, that caught my attention. Why would a die hard Manhattanite venture to Queens to devote an entire evening to a single food tasting? When I asked him, he said "I'm going and you should too"  insisting that Queens Taste is definitely one of the best food tasting events in New York City. That's high praise coming from someone as knowlegable about food events as he is and he's not the only one. Queens Taste also received stellar four and five star ratings from Yelp reviewers who attended the event last year. In fact, the Yelp team gave Queens Taste four and a half stars (out of five) & not a single review below four stars. That's pretty impressive.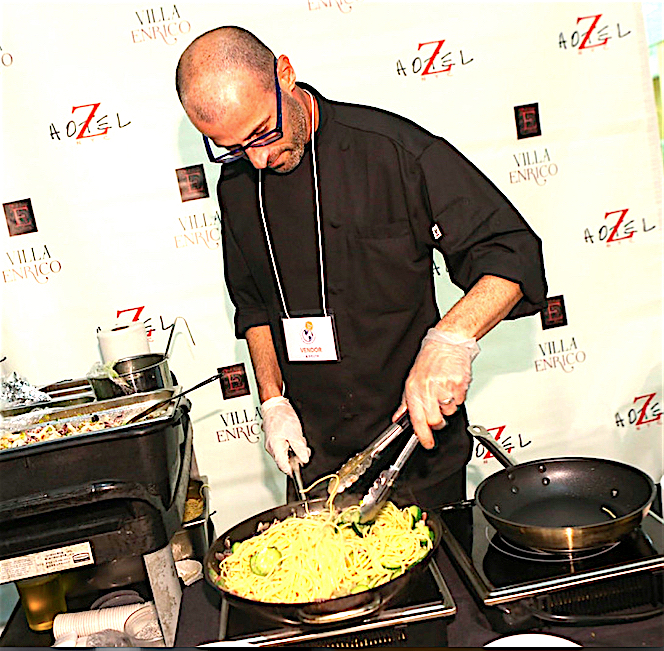 So we know Queens Taste was great last year. What can we expect for Queens Taste 2016? Based on the most recent press release, I'd say it looks pretty darn good. Here are a few details:
From the Queens Taste 2016 team: " (Kew Gardens, NY) — The Queens Economic Development Corporation and the Queens Tourism Council are proud to announce that the borough's premiere food-and-networking event — Queens Taste 2016 — will take place at the New York Hall of Science in Flushing Meadows Corona Park on Tuesday, May 3, from 6 pm to 9 pm. The reasons to attend this 14th annual extravaganza are as many as the ethnicities in the world's most diverse borough. Foodies can expect everything from creamy to crunchy, fiery to flaky, and savory to sweet. For example, Flushing's Mulan will prepare modern Chinese while Joe's Crab Shack in Elmhurst will serve seafood, and Rego Park's Marani will offer kosher delectables with a Georgian (Russian) flare. Latin participants include Sabor de Cuba in Astoria, while the Nest in Richmond Hill will dish out Trinidadian/Guyanese treats, and Shake Shack, which just opened a branch at Queens Center, will share its famous hamburgers. Plus, clients of the Entrepreneur Space, a food-and-business incubator that QEDC operates in Long Island City, will give away samples of their artisan specialties. Then there are the drinks. The Wine Store of Forest Hills headlines a beverage group that includes locally made Queens Courage gin and caffeinated products from Coffeed. For sweets, Sabatino store will offer truffles and the Paleo Factory will give out a dairy-free, gluten-free, date-sweetened chilled mouse."
That's an impressive selection of cuisines and they all sound delicious. Locally produced foods and products have been increasing in popularity, extending beyond food and into the spirit and beverage sectors with brands such as Queens Courage gin and Coffeed. Queens Taste offers a unique opportunity to directly experience one-of-a-kind locally produced products. In addition, with over 700 attendees and more than 50 restaurants, it's an excellent opportunity to network with business owners & people who share common interests. With a carefully curated selection of businesses and invitees, Queens Taste 2016 is tough to beat. Plus, many of the businesses are Queens-specific which means a more eclectic locally-influenced selection of delicious foods. Truly, I don't know how I missed out on this event last year but I'm definitely not missing out this time and neither should you!
For more information, visit www.thequeenstaste.com or go directly to Queens Taste 2016 tickets on Eventbrite.com.
Additional details for Queens Taste 2016 :
World class chefs
Diverse range of appetizers, entrées, desserts, artisan products, and beverages
Attendees are primarily Queens residents and business executives plus die hard foodies who will go to the ends of the earth for a great food event
Don't miss out on the famous Ottomanelli hamburger, Portuguese paella from Jamaica's O Lavrador or the sweet treats from Rudy's Bakery in Ridgewood.
If you're on a restricted diet, be sure to try Paleo Factory's dairy-free, gluten-free, date-sweetened chilled mouse
With over 50 restaurants, be sure to check the list of vendors (see the provided description above & at the event) and select your personal favorites
Proceeds from the event go to support Queens Economic Development Corporation's (QEDC) ongoing efforts to attract, create, and maintain jobs in the borough.