Ever notice that most New York City subway riders don't place their bags on the seats?  There's a good reason for it — it's against the rules and could land you a summons and a fine. In fact there are lots of things that can get you into trouble on New York City's transit system.  And you need to know what they are, unless you want to pay an  additional 50 to 100$ on top of the fare. Fortunately the MTA provides a list of rules governing the general public and if you're planning on riding with the MTA, you need to know them.This includes anything ranging from smoking, drinking alcohol or even carrying liquid in open containers. Another challenge is keeping up with the latest list of violations that can land you in trouble since they may change over time.
Other perhaps less obvious ways to get into trouble include (but not limited to):
Placing your feet on a subway seat (seat obstruction)
Throwing objects
Holding the subway doors open
Gambling
Unnecessary noise
Media device (kinda vague)
Unauthorized animal & a list of unauthorized things (see the official MTA list)
Impairment by alcohol or drugs (50$ fine)
Posting notices or signs
Scratchitti (never even heard of it. Urban Dictionary defines it as scratching your tag into an object)
Graffiti
Carrying long objects
Smoking
Fare evasion
Breach of peace
Unauthorized movement between subway cars (even while the train is stopped)
And more
A detailed violations list is available at the MTA website.  Read it & consider each category carefully because it's a long long list. You may also want to read this section containing specific links explaining each category.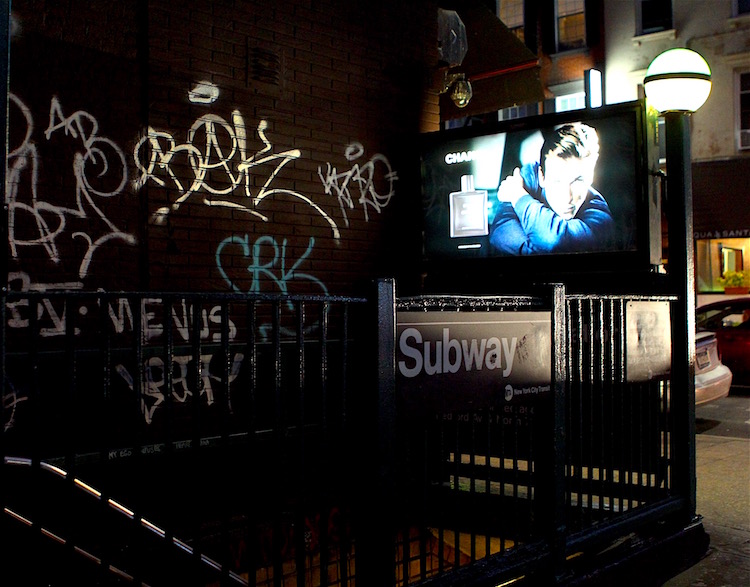 And it doesn't end there. A few less well-known violations include:
Activity near a construction site
Failure to provide requested information
Unauthorized trash removal and
"Misrepresent Affiliation"
The MTA's Rules of Conduct and Fines is fairly extensive but you need to read their violations list if you hope to avoid a fine. Yet, if you're a regular subway rider, it's practically inevitable you'll eventually violate one of the rules, either inadvertently or by necessity. Say for example, you're on a subway and it's overcrowded or you feel threatened by someone and try to move between cars. Instead of using the door to the station stop, you use the one connecting the trains. The train isn't moving so you assume it's ok. Well it isn't. In fact, it's one of the most common violations listed by the MTA and subject to a 75$ fine. It doesn't matter whether or not the train is moving. Even if it's fully stopped, you could receive a ticket if caught (unless authorized by the MTA's list of individuals allowed to permit it).  That's just one of the ways to land a summons and a fine. Another common scenario happened to a friend. They were riding a subway late at night. The subway car was completely empty so they put their feet up on the seat & fell asleep. They awoke to an officer tapping them and telling them they were in violation. They were subsequently issued a 50$ fine for seat obstruction. Even through the subway was empty. According to the MTA's Rules of Conduct, "riders may not lie down or place feet on the seat of a train." Doing so is seat obstruction and punishable with a 50$ fine. In fact, according to the MTA's website, seat obstruction is one of the most common violations resulting in summons. The seat obstruction rule is fairly specific — no bags, feet or personal items are allowed on seats. And it doesn't matter if the subway is filled with passengers or completely empty. Don't expect a lot of sympathy if you receive a summons. You're expected to know the rules (even if you're a toursit). So if you're planning to visit New York City, it's a good idea to read the MTA's Rules of Conduct prior to your visit.  If not, you may end up with an unexpected ticket and a very expensive subway ride.