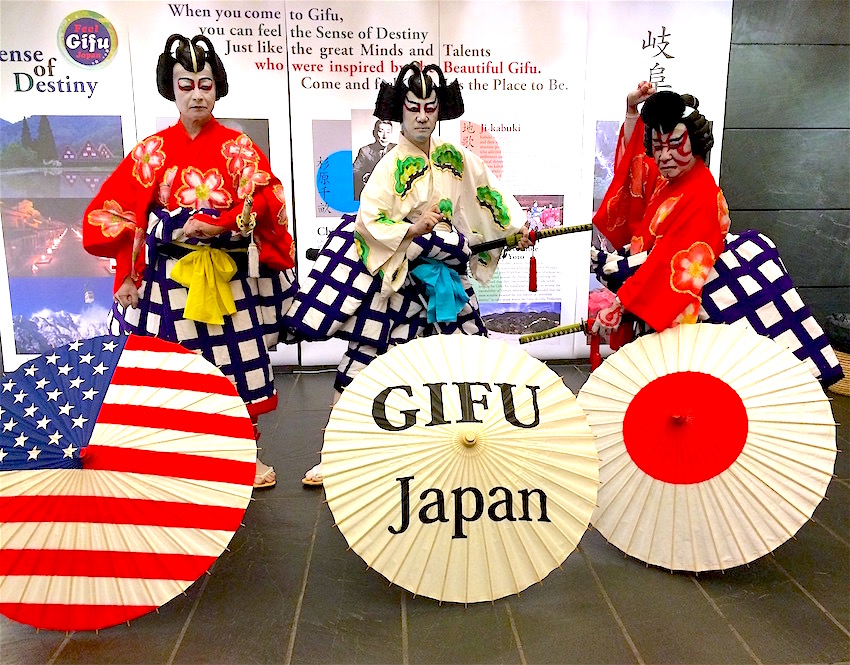 As part of the Talks + series, Japan Society held a fascinating evening showcasing Gifu Prefecture, a region located in central Japan. Entirely landlocked, Gifu is often referred to as "the heartland of Japan." Besides its rich culture & cuisine, it is only within the Gifu region one finds a very special place — The Chiune Sugihara Memorial Hall.  The eponymously named hall commemorates Japanese Consulate diplomat Chiune Sugihara (1900 -1986) who was born to a middle-class family in Yaotsu-cho, Gifu Prefecture. Sugihara was in charge of granting exit visas while stationed in Lithuania during World War II but ordered by Tokyo to reject visas for those trying to escape persecution.  Shocked by the large numbers of Jews fleeing the Nazis seeking transit visas to escape annihilation, Sugihara was ultimately ruled by compassion & humanity rather than politics, resulting in the saving of thousands of lives.
Against direct orders from Tokyo, Sugihara issued over 2,100 visas on his own initiative thereby allowing thousands to escape Nazi persecution. While many may have heard of Schindler's list, Sugihara's list is not nearly as well-known but has been preserved by Japan's Ministry of Foreign Affairs. Sugihara's list contains at least 2,139 names extending over 32 pages of the individuals he saved by providing transit visas he was ordered to deny.  Sugihara made a conscious decision to courageously defy orders to reject visas "for failing to meet the necessary conditions" and rescue the desperate refugees, offering them hope and an opportunity to escape. He did so under peril to himself & knowingly did so during a dark chapter in history when the consensus of opinion was against him and those he helped. This was not only an act of courage but an even greater act of compassion and clear thinking — he had the intellectual strength to interpret the information he had, reject the status quo and rely upon own his inner humanity and compassion.  When asked why he chose to help the refugees over obeying the orders from Tokyo to reject them, Sugihara responded, "I ultimately reached the conclusion that humanity and compassion come first."  The Sugihara list stands as a testament to his courage & as a record of his mass issuance of transit visas out of Nazi Germany for the rescue of thousands of refugees. According to survivors, through Sugihara's actions individuals escaped to safety & countries where they settled and re-established themselves, had families, children and grandchildren; the estimated total lives existing today thanks to Sugihara has been estimated to be in the thousands (as much as 40,000 survivors' descendants).  Dr. Sylvia W. Smoller, a survivor & one of those fortunate to be on Sugihara's list, went on stage to give a very special presentation describing the impact Chiune Sugihara had on her life & those around her. Dr. Smoller's discussion on the topic is both inspirational as well as fascinating (please see video below). Specifically, Dr. Smoller's theories on what motivated Sugihara and how a single act can result in far reaching consequences potentially altering the course of world history in ways one could never anticipate or predict.

Also featured during this special program was an authentic demonstration of jikabuki, a regional form of kabuki theater performed in rural parts of Japan, by the Tono Kabuki Nakatsugawa Preservation Society.
The evening concluded with a tasting reception, which included samples of Gifu delicacies rarely found in the U.S. such as premium wagyu Hida beef and a variety of fine sakes brewed in Gifu.  Truly, the sakes were some of the finest I have ever tasted. Some of the sparkling and raw sakes were unlike any I have ever experienced before. Representatives from each brewery were at tables serving their sakes and available to answer any questions about the product. Also included at the event was authentic cuisine from the region. Making its debut in the United States for the first time, Hida beef or 'Hidagyu" refers to a specific variety of Japanese black Wagyu beef farmed in Gifu; the title is only given to beef meeting strict criterion. Hidagyu cattle are rasied with extreme care while raised surrounded by mountains and clear pure water from mountain streams.  The end result is a high quality extremely rich and tender product unique to the region. Guests were provided with a sample of Hida beef, to be enjoyed along with a wide selection of over 30 different kinds of sake from the region. Truly a very special evening & tasting.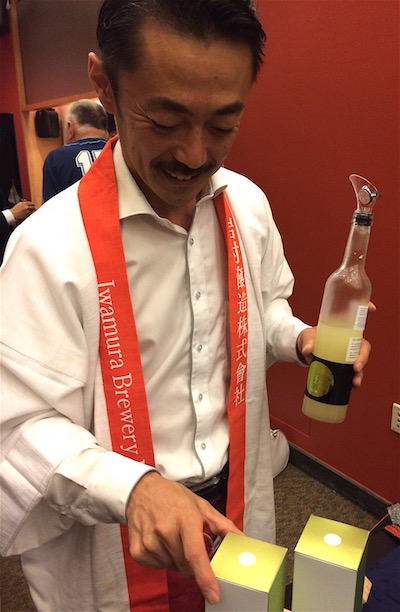 Below is a list of a few of the excellent Gifu Sake brands presented by "Feel Gifu"
Nihon-Izumi Brewey Co., Ltd – Junmai Ginjo
Komachi-Shuzo Sake Brewing Company Limited – Nagara-Gawa Sparkling Nigori Ginjo
Miwa Shuzo Co., Ltd – Sasa-Nigori Junmai Ginjo
Tokoro Shuzo Co., Ltd – Bozimaya Yamada Nishiki – Junmai Ginjo
Kosaka Shuzoujou Co., Ltd – Hyakushun – Jikagumi Muroka Nama Genshu – Junmai Ginjo
Miyozakura Jozo Co., Ltd – Miyozakura – Junmai Daiginjo
Yamada Shoten Limited Partnership – Junmai Genshu – Tamagashiwa
Nakashima Sake Brewing Co., Ltd – Kozaemon – Junmai Daiginjo
Chigonoiwa Sake Brewery Co., Ltd – Chigonoiwa Junmai Ginjo Genshu
Iwamura Brewery Inc. – La Chatelaine Karakuchi Junmaishu Junmai Ginjo
Tenryou Sake Brewing Co., Ltd – Junmai Daiginjo Tenryo Koshu
Watanabe Sake Brewery Co., Ltd  – Cody's Sake Junmai Ginjo
Nagaragawa – sparkling Nigori sake
Shirakawago Sasanigori – lightly cloudy sake
Gifu has been referred to as the "Japanese Alps."  Famous for its mountain water, the basis of which serves as the foundation for Gifu's best Sakes – the end result is stunningly pure sakes, well-worth seeking out & enjoying alone or with food.