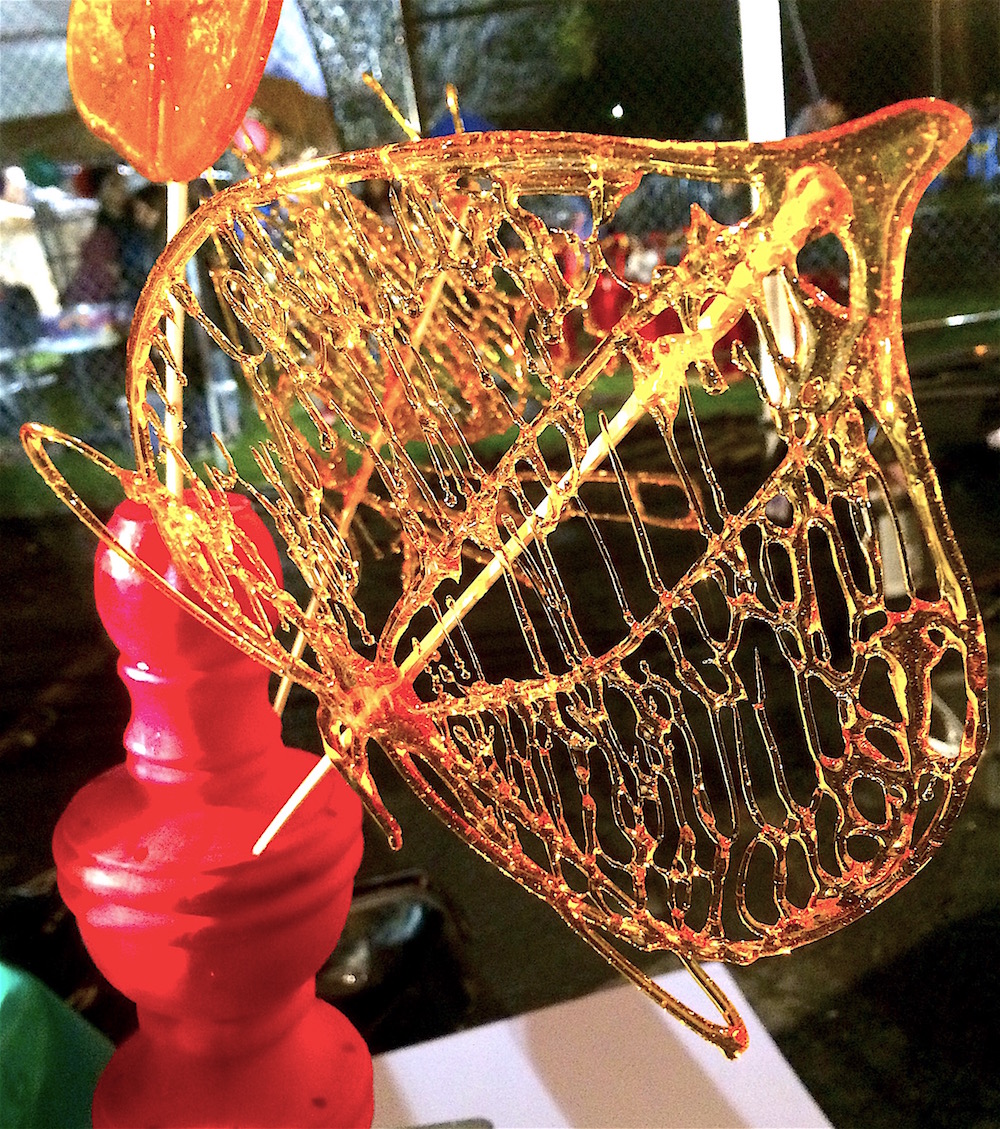 Fans of authentic international cuisine with adventurous tastes (including a dish made famous by Anthony Bourdain) have one more reason to celebrate. The Queens International Night Market returns to the New York Hall of Science in Flushing Meadows Corona Park on Saturdays beginning on April 22nd, 2017. A limited number of tickets are available for two "sneak preview" events on April 22nd and April 29th.  If you can't make the sneak previews,  the Queens Night Market will be free and open to the public beginning on May 6th. If you're curious about what you'll find at this year's line up, you may be in for a few surprises (the official list is included in this article). International and extremely eclectic, food selections range  from delicious to daring! A specific delicacy attracted lots of interest at the first sneak preview; a large crowd eagerly awaited a chance to try Balut (aka fertilized duck eggs shown below) at Lahi's Philippine Dining. Anthony Bourdain famously ate Balut while visiting Vietnam back in 2006 and ate it again during an interview with Piers Morgan (posted online by CNN).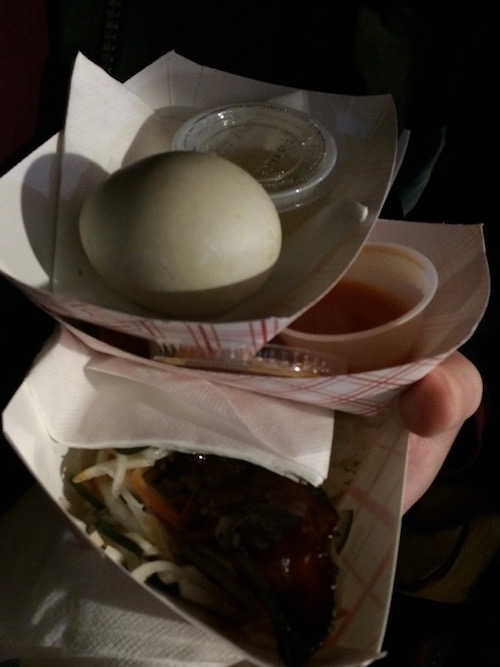 Other food items for the more adventurous at this year's Queens International Night Market include beef heart skewers, Mexican crickets & Karl's octopus balls. As for delicious, there's plenty to choose from but come prepared for lines at some (but not all) stations. Well worth the wait, portion sizes are generally pretty good for the price & the vast range of international cuisine is one of the best I've seen. If you're planning to go, you can either drive there (there's parking) or take the 7 train. Don't forget to stop to watch the Chinese sugar painting, music performers and local vendors along the way. Come prepared for anything & everything!
Over the years, the Queens International Night Market has featured more than 200 local vendors representing more than 60 countries. New highlights this year include: Valencian paella, Chinese sugar painting, Indonesian kue pancong; Ecuadorian bollos and corviche, Barbadian fishballs, Nigerian jollof rice and puff-puff, Puerto Rican jibaritos & mofongo, Ukrainian cuisine, Malaysian ramly burgers and kaya toast, Bolivian anticuchos (cow heart skewers), and Mexican tamales de chapulines (crickets).
Performers:
Since its inception, the Queens Night Market has featured over 100 local performing artists ranging from salsa bands to Bollywood dancers, from martial artists to brass bands, from rock bands to capoeira, and from African dance troops to jazz bands. Below is the performer lineup for the sneak preview nights.
April 22nd:
8:30-9:15pm – Do the Needful
7:00-8:15pm – Supermajor opens the season with their catchy powerpop rock
9:30-10:30pm – Rini plays groovy adrenalizing Indian Electronica
April 29th:
Other Attractions: covers Bollywood classics in the style of indie rock Lil Buddy, the Night Market's resident DJ.
6:15-7:30pm – Bette Smith opens with her fierce-soul-strutting R&B vocals
7:45-8:39pm – Concrete – an award-winning a cappella group
8:45-9:30pm – Bridges and Powerlines follows with their optimistic fuzzy pop and indie rock
9:45-10:45pm – Gentleman Brawlers takes over with their funky afrobeat
10:45pm-midnight – DJ Lil Buddy closes out the second sneak preview
The Night Market will be introducing a host of new games and activities, including inflatable knocker balls, an intense balloon popping race, superball sukui (superball scooping), and senbonbiki (string-pulling for prizes). The Night Market will also host its popular beer and wine garden with all adult beverages priced at $5.
Below is the current list of vendors as of April 22, 2017 (please confirm with the event host as these may be subject to change).
Food Vendors:
Arancini Bros
Ashanty Chocolate (Peruvian Chocolate)
Brinkles (Curious Rice Crispy Treats)
Burmese Bites (Palatas & Mohinga)
Catmint Wheel Cake (Taiwanese Wheelcakes)
Cbao (Pork and Duck Buns)
Chinese Sugar Painting
Completo NYC (Chilean Completos & Chacareros) Ecuadorian Delights (Bollos & Corviche)
Empanada Shop
Endless Sunrice (Balinese Sate)
Gi Hin Mama Food (Squid Skewers & Jianbing)
Hong Kong Street Food
Hot and Sour Noodles (Sichuan Sweet Potato Noodles) House of Mac
House of Troche Catering (Mofongo)
Inblue Coffee Roaster
In Patella (Valencian Paella)
Inti Sumaq (Ceviche & Arroz Chaufa, Salchipapas)
Jae NYC Eats (Artisanal Twinkies)
Jibarito Shack (Puerto Rican Jibaritos)
Joon (Crispy Rice with Middle Eastern Stew)
Karl's Balls (Takoyaki)
La Roja de Todos (Pastel de Choclo & Chupe de Mariscos) Latin food and Roasted Corn (Roasted Corn & Chicharrones) Mahalo New York Bakery (Tropical-inspired Desserts)
The Malaysian Project (Ramly Burgers & Kaya Toast)
Moffle Bar (Mochi Waffles)
Moon Man (Indonesian Kue Pancong)
Mpaklove (Baklava)
MumsKitchens NYC (Barbadian Fishballs & Tamarind Balls) My Magic Kitchen Empire (Venezuelan Arepas Rellenas) Obe (Nigerian Jollof Rice & Puff-Puff)
Panda Café (Bubble Tea & Snow Ice)
Paula's Seoul Food LLC (Bibimbap & Bulgogi Bowls)
Primos Variedades (Tacos de Canasta & Tacos Placeros) Rebecca's Cake Pops (Ube Cakepops)
Renacer (Bolivian Anticuchos)
Roll Ram (Banh Mi & Summer Rolls)
Rudy's Tamales (Tamales de Chapulines)
Sam's Fried Ice Cream
Taste of Ukraine (Perogies & Borscht)
Teinei Ya (Pork Belly & Okonomiyaki)
Twisted Potato (Potato Twisters)
Twistercake (Romanian/Hungarian Chimney Cakes) Wood-Fired Edibles (Brick Oven Pizza)
Art/Merchandise Vendors:
Bumblebee Business Crochet
Corazon handcrafts and gifts (Mexican Handcrafts)
Craft Republik or Happy David (Filipino Jewelry & Handicrafts) Cute Brands (Panda-themed Merchandise)
Dovecote Collective
El Dorado Gift Shop
Emoji Stuff (Emoji Merchandise)
Fiza Fashion (Indian Accessories)
Las Queens Clothing (Queens-themed Apparel)
Lumière by Lisa (Candles)
Native Expressions (Quechuan Clothing & Instruments)
Polite Hostility Apparel (Witty Shirts)
Queens Thread (Queens-themed Apparel)
Robinson Rodriguez (Abstract and Contemporary Art)
Tensix by The August Tree (Curated Gifts & Toys)
The Local Wit (Onesies, Pillows, & Prints)
Theobucket Vintage (Vintage jewelry and ephemera)
Time Weavers Creations (Unique Body Products)
Unicorn of Doom (Jewelry & Accessories)
Willie Mitchell Designs (3-D Fashion Greeting Cards)
The Night Market supports & will be donating half of the ticket proceeds to three NYC nonprofits: 1) the New York Immigration Coalition, 2) the New York Police and Fire Widows' and Children's Benefit Fund, and 3) the Alliance for Flushing Meadows Corona Park.
Tickets to the next sneak preview are available online at Ticketleap.com.