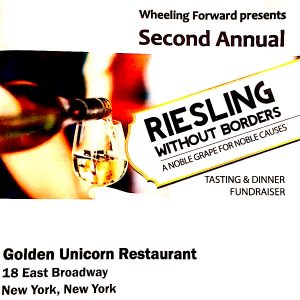 On Wednesday June 14th, Wheeling Forward held their 2nd Annual Riesling Without Borders Grand Tasting & Dinner at the Golden Unicorn Restaurant in New York City. For those who don't know, this is inarguably one of the best if not the best Riesling wine tastings in the city!  Featuring over 175 Rieslings, the diversity of Riesling styles is incredible, ranging from dry to sweet.
Rieslings from around the world were the centerpiece of this event — they even had an international table called "United Nations of Riesling."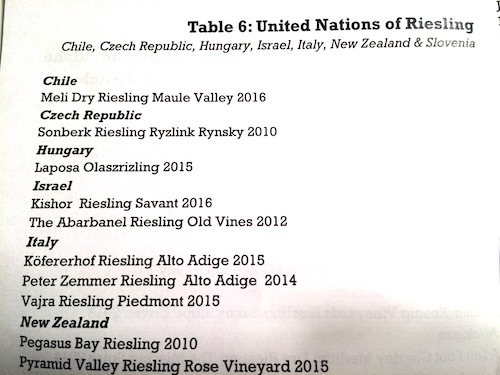 An added bonus was a water tasting hosted by Fine Waters! Guests had a chance to sample & compare waters imported from New Zealand, Portugal, and Ecuador. Did you know that there are water sommeliers & water connoisseurs? Creator & publisher Michael Mascha has written a book on the topic called "Fine Waters."  For those who are curious about fine waters & related topics, check out his website at FineWaters.com.
Riesling Without Borders is for a great cause — to support Wheeling Forward, a charity organization dedicated to disability programs to help those with Spinal Cord Injury (SCI) and whom are wheelchair dependent. Following the walk-around tasting, there was a sit-down dinner pairing Golden Unicorn's Cantonese cuisine with Rieslings to match!
In case you missed it, you can check out the selection here —
The Wine List from Riesling without Borders 2017 :