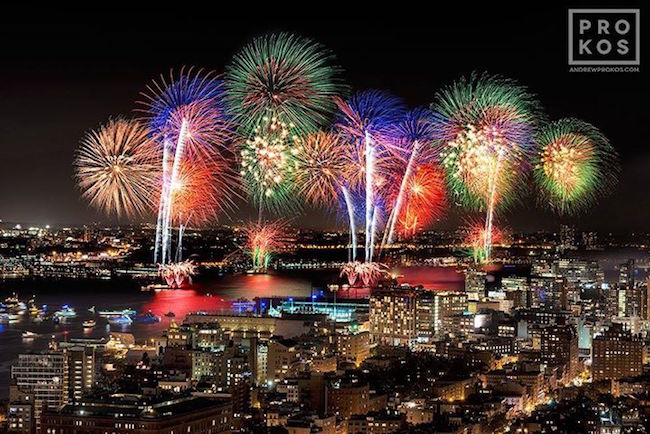 New York City is BIG so finding a good place to party on July 4th can be like looking for a needle in a haystack. Fortunately, we've looked for you & created a list of eight great NYC locations to celebrate July 4th.  Our first one is open to the general public. At #1 is the FREE Macy's 4th of July Fireworks Spectacular. Fireworks may be viewed at the East River at 9:20 p.m. entirely for free! There is a bit of a time investment — recommend arriving at least a few hours in advance to set up & get the best view. Expect large crowds.  Macy's has designated official viewing areas (make sure to visit their official viewing points map).  Also, remember to bring ID just in case you're asked to show it or decide to head somewhere over 21 later. FYI – you can also sign up on Facebook here.  Visit this link for more information – visit macys.com/social/fireworks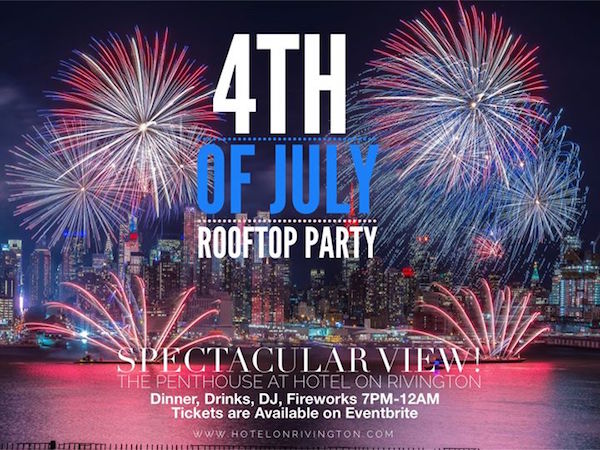 #2 Ticketed – Hotel on Rivington (107 Rivington Street, NY NY) from 19:00 – 23:59 Celebrate this 4th of July at the 20th floor Penthouse at Hotel on Rivington. Enjoy five hours of open bar, a guest DJ, delicious buffet a panoramic view of the fireworks. Tickets available on Eventbrite.com. This event is 21 and over. Valid identification required.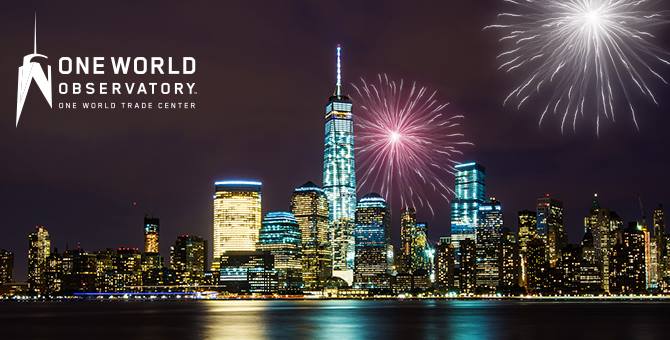 #3 Ticketed – Fourth of July at One World Observatory One World Trade Center, from 20:00 – 22:00 at 285 Fulton St, NY, NY. Enjoy incredible views of the fireworks from the tallest building in New York City. Ticket includes access to a 2-hour open bar, American food as well as a VIP ticket option for access to the VIP Lounge. Visit this link for info on ticket packages & pricing – https://oneworldobservatory.com/?promoCode=july42017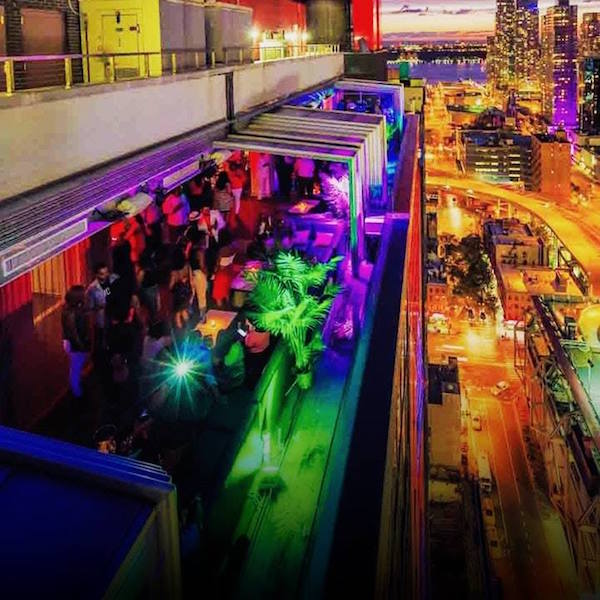 #4 Ticketed – July 4th Celebration at the Skyroom Rooftop. From 22:00 – 04:00 AM.  Located at 330 W 40th St, NY, NY. Fortunately, tickets to this event are more reasonably priced but read the TripAdvisor reviews (posted here) before deciding….  This event includes five spaces: A North & South Terrace, Two Lounges and The Cube Balcony. Visit the Skyroom Facebook Events Page for more info.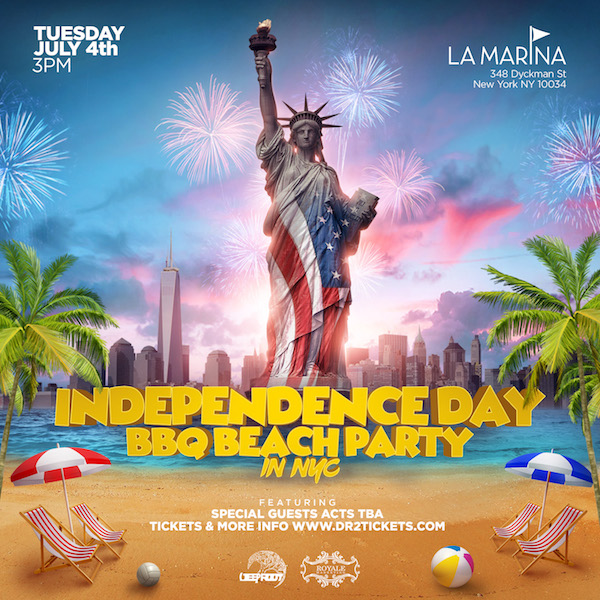 #5 Ticketed – La Marina's beach party comes with a BBQ but no view of the fireworks. "La Marina will feature a variety of BBQ food, music and the "most succulent and exotic" cocktails! Here's your chance to party on a beach, overlooking the Hudson river in the best city in the world!"  Based on the photos on Facebook, this looks like a BIG party! For more info/tickets visit this link at Eventbrite.com.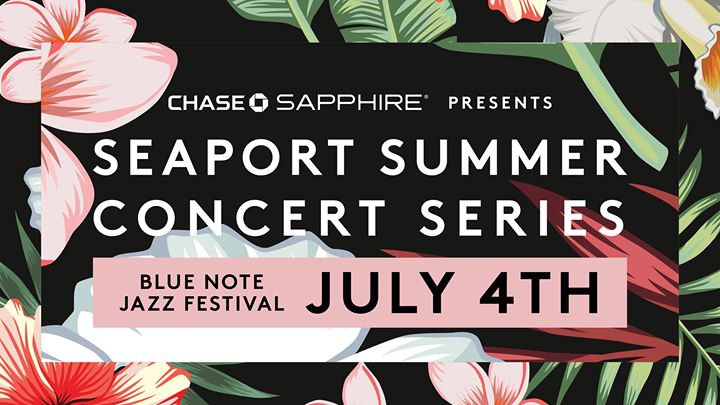 #6 FREE – The Seaport District 19 Fulton St, NY, NY from 15:00 – 21:00 The Seaport District NYC and Chase Sapphire® present The Seaport Summer Concert Series in conjunction with Live Nation. This free, live music event will take place outdoors as follows: From 5:30 – 6:30 PM: Maurice "Mobetta" Brown From 6:45 – 7:45 PM: Hypnotic Brass Ensemble From 8:00 – 9:00 PM: David Sanborn. Note : This venue does not have access to a view of fireworks this year.  But it's also FREE !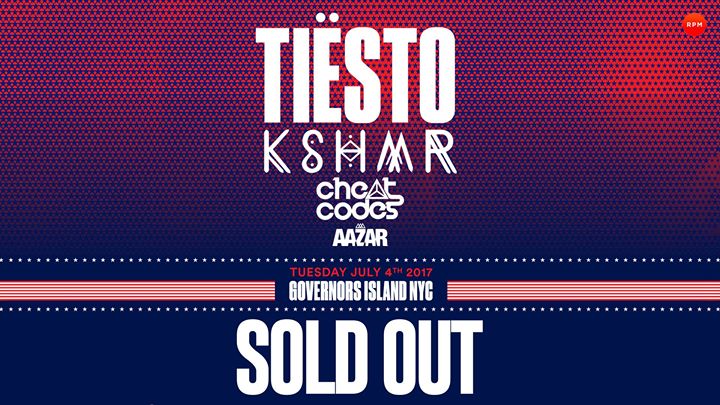 #7 Ticketed and SOLD OUT – Tiesto – Tiësto/KSHMR / Cheat Codes / Aazar.  On Governors Island. For July 4th,  world famous Tiësto returns to New York City to play a special show to celebrate Independence Day. Fans will have the opportunity to see the music legend perform on Governors Island, against the backdrop of the city's skyline and explosive energy of his extensive musical catalog for an unparalleled Fourth of July experience. No surprise – this event is sold out! More information at – hrbrproject.com/info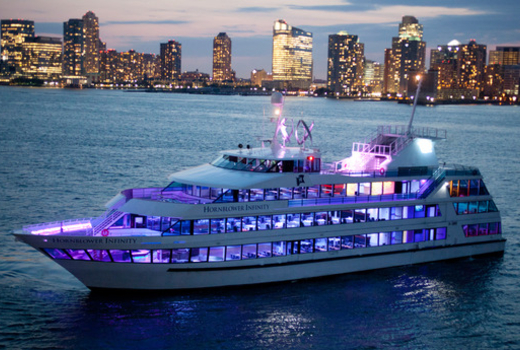 #8 Ticketed – And finally, if you're looking for a view from the water, Hornblower cruises will provide you with an exclusive experience aboard one of their vessels from NYC's leading luxury fleet. Sail off on a yacht and watch the 4th of July Fireworks display alongside the Statue of Liberty and other iconic landmarks. Note – their cruises often sell out, but there are other companies that run similar July 4th cruises (I just haven't tried them yet, so I don't know what they're like). For more info on the Hornblower yachts visit – https://hornblowernewyork.com/dining/4th-of-july-cruises/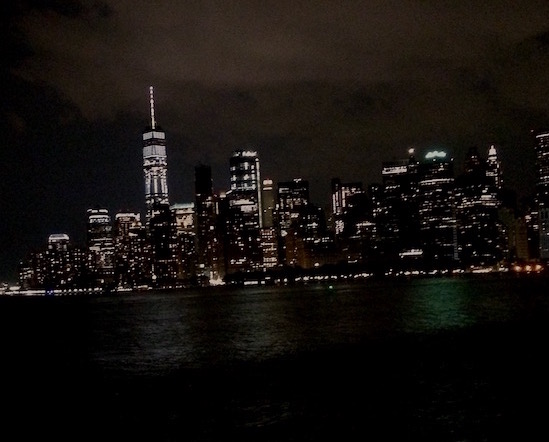 Additional options– It's worth noting that there are additional Manhattan venues available but many are VERY expensive (some are well over 300$ per person plus tax!) so I did not include them. As with so many things in NYC,  the sky's the limit.  Especially in Manhattan where you can expect to pay top dollar for July 4th and New Year's Eve parties. Better yet, head over to Long Island City or Greenpoint/ Williamsburg for less expensive options. It's a lot less crowded there & still lots of fun with great views of the fireworks from the across the river. Like so many things, the best things in life are often free or at least not ridiculously overpriced.