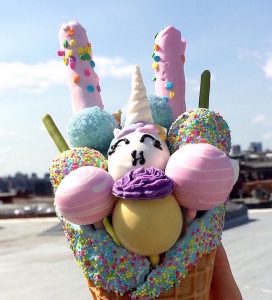 A Dessert Festival in New York City and me is just a disaster waiting to happen. But really – what could go wrong? Dessert Goals. What the heck is this thing called "Dessert Goals" anyway? Well if you read their website, Dessert Goals is "because dessert is always a good idea, say goodbye to your summer body and join us for a day of indulgence, deliciousness and stretchy pants." But don't assume you can just purchase a ticket whenever you want. Big mistake. If you're lucky, you may be able to score a ticket, but that's only if you're quick. Because Dessert Goals tickets sell out FAST. No joke. It's true. The first time I attempted to buy a ticket to Dessert Goals, I wasn't quick enough and missed out. By the time I'd clicked on the ticket link, an ugly "sold out" sign popped up. Basically it was a "come back next year" situation. Well very few things irritate me more than being denied. So I placed myself on the mailing list and this year I was ready to go at the designated time. Literally within minutes, I clicked on the link & purchased a ticket (which was priced at just below $20).  Now what do you get for your 20 bucks? Well, not much it turns out. Basically your ticket allows you into the event and access to Dylan's Candy Bar's free candy bar. The candy bar is free but it isn't unlimited, they hand you a small plastic bag to fill up. As for the rest of the vendors (see list below), you have to purchase each item separately. Additionally, you must remember to bring cash as not all the vendors accept credit cards. On the surface this doesn't sound like a good deal at all. But actually Dessert Goals was a lot of fun. While most people probably would prefer an "all you can eat" option, Dessert Goals has a slick set up and great organization. For if this were an "all you can eat" kind of event, two things would happen, possibly three. First of all, you wouldn't be able to get to all of the good stuff. The crowds would quickly snap up most of it, and you wouldn't be able to sample everything. The reason I say this is because several of the desserts took quite a bit of preparation time to create. So if this were all you can eat, the lines would be very long and you wouldn't have time to get to everything (or they wouldn't be able to offer such intricate desserts).  I say this based upon experience.  I've been to "unlimited food" events only to leave disappointed after large crowds devour everything up before I've had a chance to try it. Or you end up rushing to eat as much as you can before it disappears. Yet another positive aspect of Dessert Goals is the fact that you don't feel rushed and you probably won't overeat.
As I entered the event, a guy leaving yelled  out to the crowd "you're going to spend a lot of money, but it's worth it!!"  At first I wasn't sure what he meant but I quickly found out. Desserts ranged in price from five dollars up to 20. Several good sized ones were in the 9 to $10 range. So if you wanted to try like 4 or 5 desserts, expect to spend upwards of $20-$30 on top of your admission ticket price. Another annoying thing, they don't give you a free Dessert Goals tote bag, they charge $10 for it.  And if you want a paper bag to carry some stuff home, that'll be an additional dollar. Now that's just crazy. But still I really loved Dessert Goals. For one I enjoyed the fact I could get pretty much whatever I wanted, when I wanted.  Most items did't sell out, and once the other guests had sampled what they came for and spent their money, they left.  So I had most of the place to myself for the last half hour (it's a timed event but there was plenty of time). As for the attendees, they were a polite upbeat happy crowd. Kids were allowed. The venue space itself was perfect and included an outdoor rooftop where you could go to sit and relax.  Excellent DJ too. The vendors were top notch. There was an eclectic selection and my only criticism is that I saw certain vendors with whom I was already familiar with (a sure sign I'm a dessert addict!). One of the vendors is currently at the BK Smorgasburg and I'd already tried their desserts without having to pay to get in. I see no reason to pay an admission charge for a dessert I could try for free. Right? Speaking of free, the free samples and free giveaways were a nice perk. And I tried a few desserts that really blew me away.
It's convenient having all of these desserts, all in one place (hmmm, isn't it?).  Again the great organizational skills of the event planner played a large role in enjoying this event. There were plenty of props come including an inflatable unicorn, a nail station, salt bar and free boxed water (this was actually really excellent).  One negative – the lower level lacked adequate lighting and it was hard to actually see some of the products. Yet everything I tried here was really really good. And because they charged per item, I didn't have to complete with other guests or worry about them running out. And that's the one thing I regret – not brining more money with me to Dessert Goals. And all of the sugar I ate. And not bringing a toothbrush. And, well nothing. All in all I have to say I really liked this event. Did I reach my dessert goals? Not yet. But I had lots of fun that day.
List of Dessert Goals 2017 Vendors: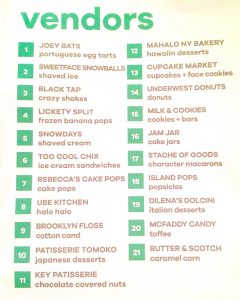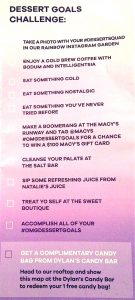 Video: Bona Bona Ice Cream – Blow Torch action: