If ever there were a sign of Bitcoin's cultural impact, artist Jared Schwalb has captured the phenomenon perfectly in his latest series of work entitled "Gold Bit 2018." Also included in the series are "Green Bit 2018" and "Silver Bit 2018." Utilizing screenprint with diamond dust and available as party of a signed limited series of 50 each, each are signed and numbered in pencil.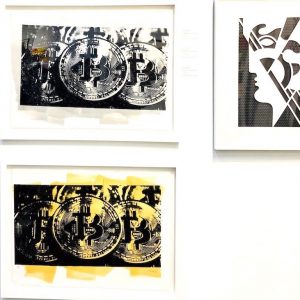 Screen printers utilize a screen or section of mesh stretched over a frame composed of various materials.  Many variations exist resulting in a wide variety of applications and degree of complexity.  One of the key advantages of screen printing is its flexibility which allows for artistic creativity as it can be used with materials ranging from textiles, china, paper, wood, plastics and even metal.  Screen printing is ubiquitous in commercial products, perhaps why the artist chose it for this particular series of works. Only time will tell…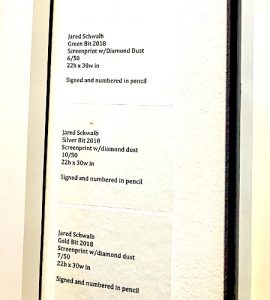 More on the Art on Paper International Art Fair may be found at their website : thepaperfair.com/ny
Also, please check out some of the other great works spotted at the 2018 Art on Paper show this year.