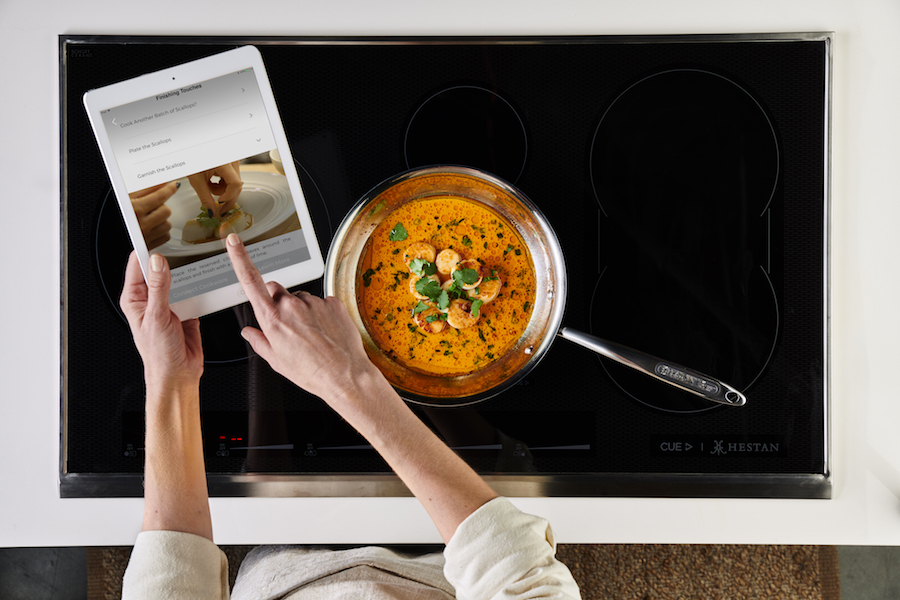 The Hestan Smart Induction Cooktop is truly one of the most incredible cooking technology systems currently on the market.  Ever wondered how you can create five star meals consistently and reliably at home? Love the seemingly impossible to create recipes they serve at restaurants? If so, check out the Hestan Cue™ system. Their latest product uses smart cookware paired with a smart induction burner and recipe app (the system requires a phone or tablet able to run the Hestan Cue app) to automatically control the temperature and timing of each recipe step. Choose from hundreds of video-guided recipes, including tips and techniques from top Michelin-starred chefs. But what's truly incredible is the technology that allows the smart cookware to communicate with the phone app — the pan tells system the cooking temperature, and automatically adjusts the burner temperature. For anyone trying to decide whether or not to choose an induction cooktop, this new technology could be the deciding factor. Induction cooktops already have the advantage of lower energy costs and speed (much faster than gas or electric).  Add the Hestan Cue™ technology and induction cooktops have a clear advantage.  To quote the company press release: "Hestan's powerful, responsive and efficient induction burners transform your cookware into its own exceptional heat source. Embedded Hestan Cue™ Smart Cooking technology delivers even more remarkable control. When paired with Cue Bluetooth™-enabled cookware and the Cue app, the smart induction burner maintains the perfect temperature as chef-guided videos walk you through each step and technique of our carefully developed recipes.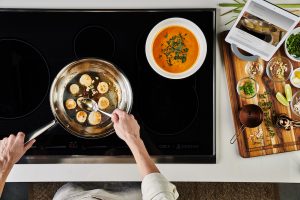 • Cue technology creates a seamless cooking experience, allowing the induction burner, smart cookware and recipe app to work in unison with you.
• Bluetooth technology and embedded culinary sensors automatically control cooking temperature as you proceed through Cue recipes.
• Video-guided recipes walk you through each step and technique for every recipe in the Cue library.
• Chef-developed recipes optimized for Cue by our team of award-winning chefs.
• Cook with precise temperature without a recipe using the Control Mode feature on the Hestan Cue app.
• Precision induction elements deliver immediately responsive temperature control to provide consistent cooking results.
• Induction power generates exceptionally high heat with greater energy efficiency and safety.
• Low simmer allows for gentle cooking for even the most delicate of sauces.
• Easy to use slide touch controls offer smooth, intuitive and precise power
control.
• Patent-pending Marquise Accented™ glass surface adds signature style and a sleek, elegant cooking surface that is easy to clean and maintain."
Based upon the technology & clear advantages of this system, I am considering purchasing the Hestan Cue system for my home. Being able to cook restaurant quality food in my kitchen at home would be well worth the purchase price.  Just think – you control every ingredient – organic, grass-fed, non-GMO, spice level etc. The systems' versatility is also highly appealing. One reviewer even used it to cook candy, they made "Almond Brittle." Besides the practical aspect of the system, it also looks very sleek/compact. As of right now, I was able to find it for sale on the company website at https://www.hestancue.com/product/hestancue/.  The system is also available at Amazon and Williams Sonoma (one of my favorite retailers) for 499$ as of March 2018.