Queens Taste 2018 brought together the best of the celebrated borough all in one place for an incredible evening of food, fun and festivities! According to the official release,  "Great Food, Great Drinks + Great Times" were the star at this year's Queens Taste. An annual all-you-can eat food & drink party, Queens Taste featured an authentic smorgasborg of top-notch entrées, appetizers, beverages, desserts, and specialty products — including designer dog biscuits and a very cool blue LED cake (shown above)! Queens Taste was an incredible party with more than 50 vendors. An estimated 650 attendees celebrated in a festive, almost giddy, atmosphere at the iconic New York Hall of Science on Tuesday, May 1.
"Hosted by the Queens Economic Development Corporation and the Queens Tourism Council, the 16th annual extravaganza's menu included: asparagus soup with potato/parmesan foam, kosher latkes, shredded chicken arepas, bean tortilla soup, chipotle hamburgers, jerk pork, baby shrimp tacos, grilled Cypriot halumi sandwiches, ceviche, curry poppers, and candied strips of bacon.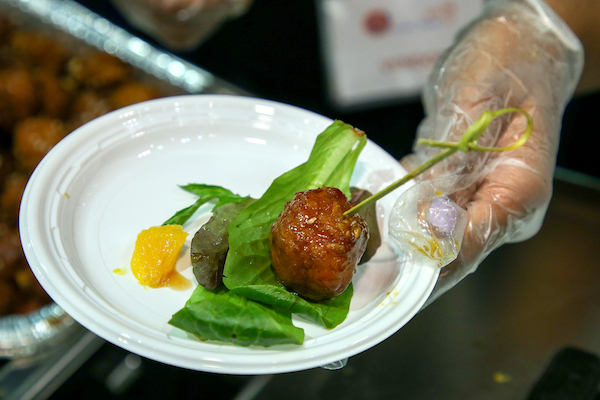 "This was my seventh Queens Taste as an employee, and it was the best ever by far," said QTC Director Rob MacKay. "As to be expected, the food was awesome and everybody was is a great mood, but the diversity of cuisines and the representation of so many neighborhoods made the event extra special this year. I'm already excited for Queens Taste 2019."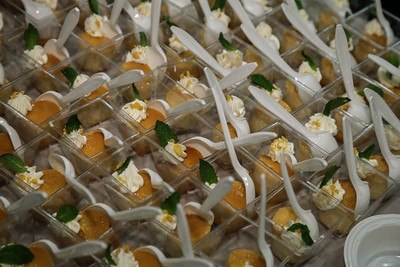 Restaurants at the venue included:
Arepalicious, Bareburger, Ben's Kosher Deli, Casa del Chef, Chef Sherri Cooks,
Elements Lounge at LaGuardia Plaza Hotel, F. Ottomanelli's Burgers & Belgian Fries, George's
(formerly known as The Astor Room), Grace Jamaican Jerk Festival, Kurry Qulture, Leticia's
Ecuadorian, Neir's Tavern, The Nest, Pa-Nash, Queens Bully, Queens Curry Kitchen, Redwood Deli, Salt
& Bone, Sheraton LaGuardia East Hotel, Thai Rock, Uno's Bayside, and Zenon Taverna.
The desserts and specialty products included Amuse Pooch (the all natural dog biscuits), Biggie's Crack
Toffee, Bliss Street Creamery, Coco de Via, Eat MUD, forward ROOTS, Javamelts, Little Pleasures
Catering, Mahalo New York Bakery, Mama Lam's, Milene Jardine Chocolates, MumsKitchens,
Schmidt's Candy, Sydney's Sweets, and Two Hearts One Cupcake.
Beverages also starred at the event with drinks from Brooklyn Brewery, Catskill Distillery, Chang Beer, Drink More Good, Five Points Trading, Kaiso, KeVita Master Brew Kombucha, Leaf Bar & Lounge, Mikkeller, Pilsner Urquell, SquareWine & Spirits, The Wine Room of Forest Hills, and Tsingtao Premium Beer.
Incredible live music was provided by the Afro-Latineers.The Afro-Latineers specialize in musical genres such as Afrobeat, Latin Jazz, American Jazz standards and Salsa. Their artistic influences include inspiration from the following artists: Cal Tjader, Mongo Santamaria, Machito & The Afro-Cubans, Stevie Wonder, Bobby Timmons, "Wes" Montgomery & Fela Kuti and other Latin & Jazz pioneers. "Sabor" and the band have performed for non-profit organizations, college institutions; as well as private and corporate events in Hicksville & Valley Stream, Long Island and New Jersey as well as for a legion of fans at bars, lounges, restaurants and more! More about the band & band members may be found on their official website at theafrolatineers.weebly.com.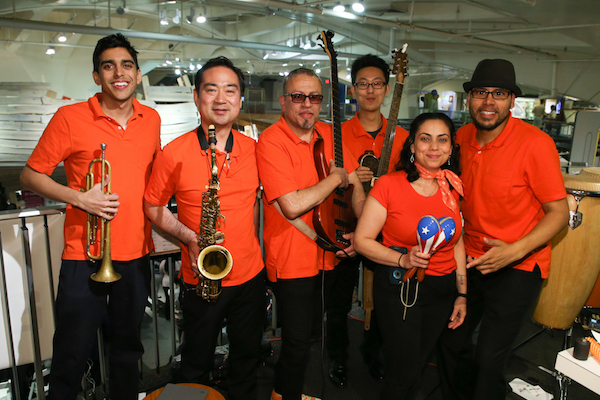 Queens Taste is definitely one of New York City's top annual events for locals and foodies alike.
All photos credited to Dominick Totino. Thank you.