Before there was Banksy, Shepard Fairey, Puff Daddy, Little Kim etc, there was Rammellzee — a multitalented sculptor, costume designer, hip-hop legend and graffiti artist. A master of his own existence, he created some of the most original and groundbreaking art and music, liberating a chain reaction and profound cultural influence lasting well past his untimely death in 2010. He was 49 years old. No one knows how he died. His real name remains unknown. Friends and family refuse to disclose such details. Rammellzee would have wanted it that way they say. He rarely emerged from the Battle Station (his Tribeca studio loft) without dressing in his self-designed masks and costumes. He legally changed his name to Rammellzee written RAMM:ΣLL:ZΣΣ  For years, it was nearly impossible to view his art. Invites to his studio were rare. Which is why I didn't want to miss the chance to view an incredible exhibit of his work when it finally arrived at the Red Bull Music Festival in New York this year.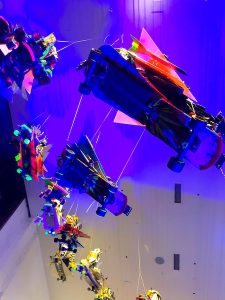 Rammellzee was not a name, it was an equation derived from RAM plus M for Magnitude, Sigma (Σ) the first summation operator, first L – longitude, second L – latitude, Z – z-bar, Σ, Σ – summation. He subscribed to a dual belief system known as Gothic Futurism and Ikonoklast Panzerism, wherein a world in which Roman letters would arm and liberate themselves, at the artist's command, from the power structures of European language.
Rammellzee created a complex manifesto one part of which described language as an act of violence. "The Romans stole the alphabeta system from the Greeks through war," explains Rammellzee. "Then, in medieval times, monks ornamented letters to hide their meaning from the people. Now, the letter is armored against further manipulation." By deconstructing modern letters from the alphabet into wildstyle symbols and science-fiction space-ship designs, they can be liberated from the tyranny of language. Once liberated, they can then be weaponised against further manipulation through the style Rammellzee called Ikonoklast Panzerism.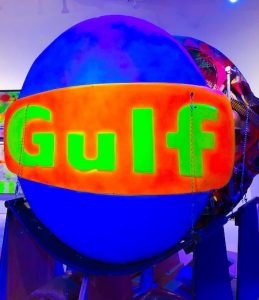 More about Rammellzee:
He grew up in the public housing projects in Far Rockaway, Queens, New York.
He is survived by his wife, Carmela Zagari Rammellzee, his mother, brother, and stepsister.
He is regarded as a hip-hop legend and artist
He is the founder of the dual philosophy of Gothic Futurism and Ikonoklast Panzerism
He knew and collaborated with fellow artist  Jean-Michel Basquiat
Basquiat produced Rammellzee's record "Beat Bop" — highly regarded as a landmark recording which inspired artists such as Parliament Funkadelic, RATKING the Beastie Boys, Cypress Hill and others
His iconic Letter Racers, representing the letters A through Z, are modern spacecraft-like sculptures merging his personal dual-philosophy with the waste of plastic pop culture. Mounted on skateboards or the chassis of remote-controlled cars, and constructed from dumpster scraps and discarded junk,  they are futuristic yet also symbolic of extreme waste and excess. The Letter Racers were a representation of how letters would work if they were physically translated, prepared to fly into battle.
Rammellzee painted or tagged in "East Village Wild Style." Wild Style is an illegible, writing style inspired from letters derived originally from the Gothic script of Medieval manuscripts.
Rammellzee disliked the word graffiti.  "Graffiti is a title stupidly placed on this art as a definition "  "Wild Style has no rules " in itself to have no rules is to be ISM, the goal and the rule. Separations of unique interpretations of basic symbolic construction of emotions and nonemotional style construction, example: common sense says the only symbol for a missile is an arrow, shown by the Chinese, the ones who really started all recording verbal formation symbols, several thousand years ago. no government is allowed to adopt, borrow, or steal subconscious symbols, or create a phonetic science to prove them." 1
For those interested in knowing more – a fascinating and in-depth discussion on the inter-relationship between Rammellzee's art, Ikonoklast Panzerism, Sun-Ra and the cultural impact of architecture on society may be found at Realm Of Zhu (realmofzhu.blogspot.com/2017/11/gothic-futurism.html)
Rammellzee's website has been archived – you can find & read his treatise on Gothic futurism in the web archives.
A bunkerlike, black-lighted re-creation of the Battle Station is on display in New York City through August 26, 2018 – for more info visit RAMMΣLLZΣΣ: Racing for Thunder : redbullartsnewyork.com/exhibition/rammellzee-racing-thunder/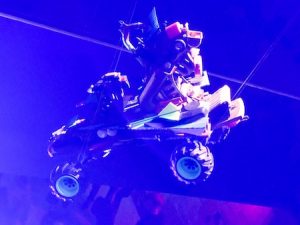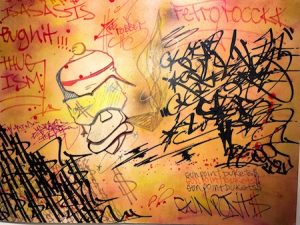 References:
1. "Excerpts from Rammellzee's ICONIC TREATISE GOTHIC FUTURISM" at https://post.thing.net/node/3086