Don't read this if you're on a diet. This beautiful summer cake was created by Black Forest Pastry Shop and it tastes as delicious as it looks! The colors are so vibrant and while it contains zero watermelon flavor, the design of this cake is sheer summer perfection. The cake itself is fluffy and not overly sweet and the lemon curd inside is tangy but not too sharp. The cake's exterior is creative too, using a colorful Swiss meringue buttercream. Isn't it beautiful? But there's more to this cake than meets the eye.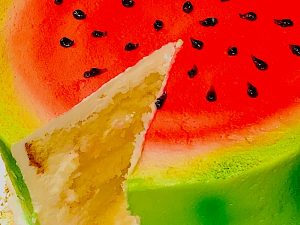 I only know this because I asked.  This watermelon cake utilizes a Swiss meringue buttercream exclusively on the cake's exterior; the interior of the cake has a dense lemon filling. This provides a nice combination of flavors and textures, yet not too sugary or sweet.  And it's important to note the kind of buttercream used as not all buttercreams are identical. Far from it. In fact, there are many different buttercream recipes and types, including the Swiss and Italian buttercream formulations. What's the difference between the two? Basically, it all comes down to the method used to create the meringue base. Italian buttercream involves dripping hot sugar into already beaten egg whites. Swiss buttercream involves combining the base of egg whites, sugar and salt over a bowl of simmering hot water. And of course both contain butter, the butter is added after the egg whites have been whipped into peaks. The main difference is the heat source, a heated sugar syrup for Italian buttercream versus heating the egg whites over hot water for the Swiss version. A more subtle difference is timing of the heat: Swiss buttercream is created by beating the egg whites and sugar above a pot of boiling water. When the ingredients reach a temperature above 130 to 160 degrees Fahrenheit, the contents are removed from the heat source and whipped  into a a silky merengue. Alternatively, the Italian version adds the heat (240 degree Fahrenheit sugar syrup) to already firm whipped egg whites and continues the whipping until the mixture cools. As a result, Italian meringue buttercream (technically it's made with Italian meringue) is silky, velvety and often the frosting of choice for wedding cakes due to its durability and lighter color. Swiss meringue buttercream is light, silky and smooth and can be formulated to be not overly sweet. Some bakers prefer to use Swiss meringue buttercream for exterior frosting exclusively. Whether or not to choose a Swiss or Italian merengue buttercream is a matter of personal preference and usage.
*Important* Information on Health Risks: Eggs are used in Swiss, Italian and French buttercreams. Because of this, there's always a risk of allergic reactions and Salmonella infection. To get around the risk of Salmonella, some bakers suggest using pasteurized powdered egg whites (also known as meringue powder) or eliminating the eggs completely. And of course, all of that cholesterol and sugar isn't healthy either but there are recipe substitutions (as well as vegan and gluten free recipes) available also (please see the last section).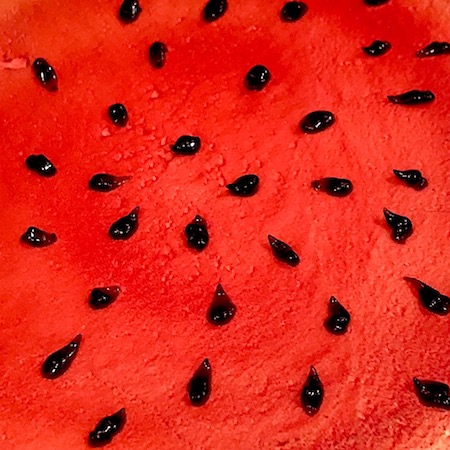 A bit of trivia- did you know there are at least six different varieties of buttercream? According to Serious Eats, here are the six main types of buttercream:
Swiss buttercream
Italian buttercream
American buttercream
French buttercream
German buttercream
Flour or ermine frosting buttercream
For more on the many kinds of buttercream, please see this Serious Eats article: https://www.seriouseats.com/2014/12/buttercreams-frosting-how-to-make-the-best-buttercream-icing-cupcakes-swiss-buttercream-italian-german-styles.html
For fat-free versions of buttercream, please check out:
Spring cupcakes with fat free frosting by sugarywinzy at http://sugarywinzy.com/spring-cupcakes-with-fat-free-frosting/
For sugar-free versions of buttercream, please check out:
Sugar-free Swiss meringue buttercream by domestifluff at http://www.domestifluff.com/2009/04/sugar-free-swiss-meringue-buttercream/
For egg-free versions of buttercream, please check out this vegan recipe:
Dairy-free buttercream frosting by the spruce eats at https://www.thespruceeats.com/dairy-free-buttercream-frosting-1001557
These are only a few sample recipes, there are many many more available online. If you'd like to suggest any for our site, please feel free to contact us. Have a sweet day!