If you love great bread, then you need to read this. Sarah Owens of BK17 Bakery is the kind of business leader legends are made of.  We've all heard the story about how Steve Jobs started Apple with Steve Wozniak in his garage (that very same garage has been named a historic site).  Analogously, BK17 Bakery was conceived back in 2010 in a small home kitchen located on 17th Street in Brooklyn's South Slope neighborhood.  Since then, it's relocated to Rockaway Beach, Queens and developed into an atelier where James Beard award-winning author Sarah Owens offers workshops on sourdough baking.  Interestingly, BK17 has remained relatively under the radar until last week.  On Wednesday November 14th, stars of the bread-baking world convened at the Landmark on the Park event space as they eagerly awaited the results of the world's first Tiptree World Bread Awards. And the competition was fierce! 
Stephen Hallam (Master Baker, Managing Director of Dickinson & Morris in England, and Chair of the Judges) hosted the official ceremony; he declared Sarah Owens (owner of Ritual Fine Foods Rockaway Queens) as "Winner of the Wholewheat/Wholemeal category and the overall winner" — handing her $1,000, a Tiptree hamper, and a trophy.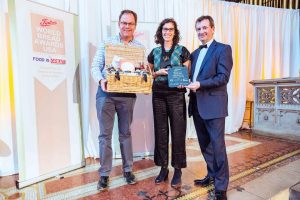 "The field was incredibly competitive," says Hallam, whose fellow judges, included legendary bakers Zachary Golper of Bien Cuit, Jim Lahey of Sullivan Street Bakery and Amy Scherber of Amy's Bread, as well as David and Tracey Zabar of Zabars, the historic New York food emporium. Sarah beat competition from all over the United States, competitor's loaves were sent in and delivered by courier and in person on the morning of the judging. The awards ceremony winners celebrated at a private fete featuring an array of British food and drink, from Toast Ale to Ridgeview, the award-winning English sparkling wine, and Tiptree gin cocktails mixed with Fever-Tree, along with a feast of cheeses from Quickes' Cheddar to Cote Hill and Caws Cenarth.
Photo Credit for WBA USA Awards Eve : All photos by Henry Kenyon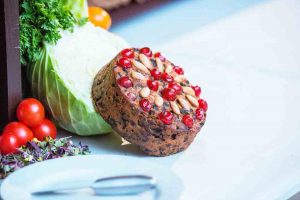 Full list of categories and winners:
Overall Winner
Sarah Owens, Ritual Fine Foods, Queens, NY: Table Loaf
American Bakers Association Sourdough
Julio Guarchaj, Grandaisy Bakery, Tribeca, NY: Pane Pugliese
Ciabatta
Julio Garchaj, Grandaisy Bakery, Tribeca, NY: Ciabatta Grande
Gluten Free
Mario Librandi, Vegan Mario's, Oak View, CA: Rye-less Rye Buckwheat Sourdough
Loaf
American Bakers Association Baguette
Clemence Danko, Choc o Pain French Bakery, Jersey City, NJ: Baguette Traditionelle
Focaccia
Julio Guarchaj, Grandaisy Bakery, Tribeca, NY: Pizza Bianca
Bagel
David Shalam, Heritage Bakers, Glen Cove, NY: Heritage Bagel
Speciality Sweet
Allison Charnitski, High Street on Market, Philadelphia, PA: Orange Spelt Loaf
Speciality Savoury
Allison Charnitski, High Street on Market, Philadelphia, PA: Allium Boule
Challah
Elana Livneh, Liv Breads, Millburn, NJ: Challah
Wholemeal/Wholewheat
Sarah Owens, Ritual Fine Foods, Queens, NY: Table Loaf
Pretzel
Melanie Legoupil, The Dinex Group, Brooklyn, NY: Pretzel
Tiptree Showstopper USA
Cheryl Holbert, Nomad Bakery, Derry, NH: Earl Grey Rose Challah
Best British-Inspired Loaf
Allison Charmitski, High Street on Market, Philadelphia, PA: Juniper Tea & Fig Loaf
More about this event:
The inaugural Tiptree World Bread Awards was organized as part of the British Food is GREAT program and
supported by American Bakers Association (https://www.worldbreadawardsusa.com). Tiptree is the headline sponsor of the World Bread Awards USA. The first Tiptree preserves were made in 1885. Products are now sold across the world, many of them made with fruit still grown on farms in Essex (www.tiptree.com).
The Food is GREAT campaign is a government initiative to support UK food and
drink exports and to increase positive public perception and demand of UK products
around the world (www.great.gov.uk).
The American Bakers Association is the Washington D.C.-based organization for the
wholesale baking industry. Since 1897, ABA has represented the interests of bakers
before Congress, federal agencies, and international regulatory authorities. The ABA
advocates on behalf of more than 1,000 facilities and suppliers and works to grow and enhance the industry through public policy advocacy, education, and networking (www.americanbakers.org).