I was recently introduced to SUPER LUTEIN, a best-selling nutritional supplement containing FloraGLO™, a naturally derived vision and eye supplement. FloraGLO™ Lutein holds the top market share for lutein supply in supplements. SUPER LUTEIN contains FloraGLO™ plus 6 types of Carotenoids: Lutein, Zeaxanthin, Lycopene, α-carotene, β-carotene and Crocetin. SUPER LUTEIN is not a medicine; it is produced in Japan under stringent pharmaceutical standards and quality control as per the online manufacturing brochure. The supplement isn't inexpensive (it's over 100$ US on Amazon), yet it's a "best selling" product in Japan. So what differentiates SUPER LUTEIN from other eye care supplements?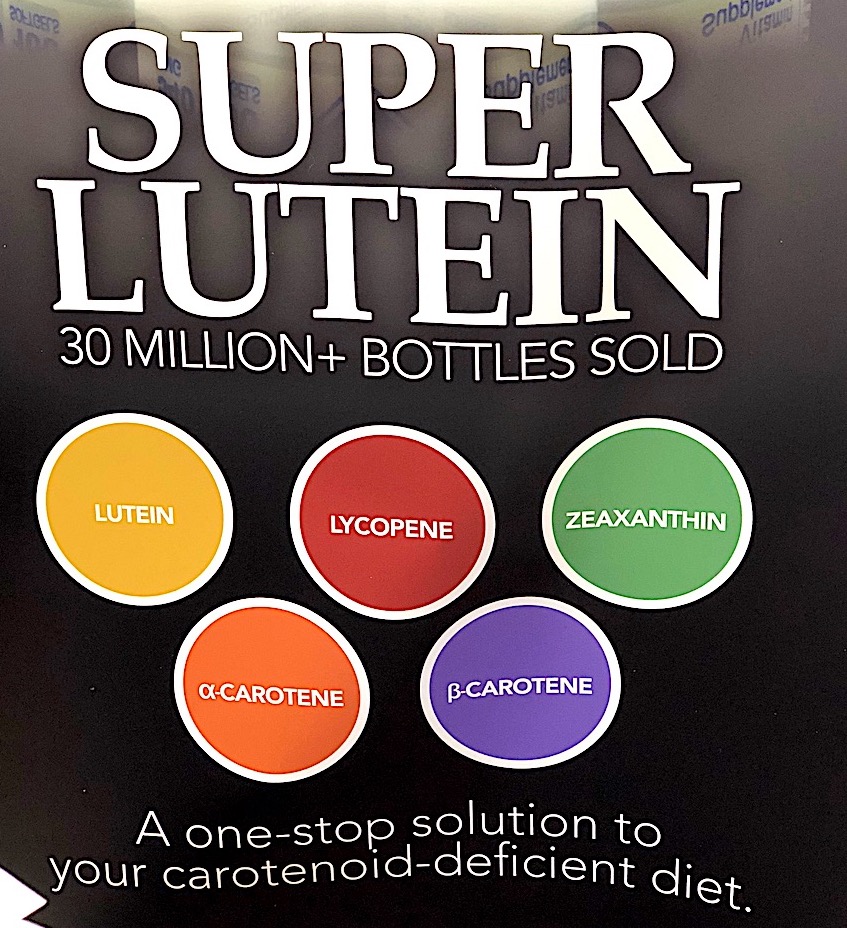 More information on SUPER LUTEIN is discoverable online. While it's sold by a third party on Amazon, there were no reviews (as of the time of this writing). The manufacturer does have an in-depth brochure available however. Excerpts from the Super Lutein company brochure:
"SUPER LUTEIN is not merely another wellness supplement. It is a product of Japan, carefully conceived, designed and produced by skilled scientific artisans. A masterpiece in itself, ingredients are prepared infusing the Japanese traditions of "monotsukuri" (i.e., craftsmanship) and "wa" (i.e., harmony)."

"The occurrence of macular degeneration (i.e., damage to the retina) is on the rise. One cause appears to be greater exposure of the eyes to ultraviolet (UV) rays and blue light. Both are present in sunlight and a growing threat as the ozone layer is depleted. Both are also emitted from manmade sources such as computer screens, electronic displays, welder's flash, fluorescent lighting and industrial equipment. When UV rays and blue light enter the eye, they induce oxidative activity that can damage the macula and retina, which can impair vision. This is a problem that is here to stay, and will never simply disappear."

"The eyes have their own protective mechanisms for neutralizing the free radicals produced when exposed to UV rays and blue light. Those mechanisms use antioxidants such as lutein and zeaxanthin, which are found in high concentrations in both the macula and retina. Lutein, however, is not produced by the body. If it is not replenished through ingestion, the antioxidative mechanism will eventually run out of lutein and breakdown. Loss of those antioxidative ingredients is said to be linked to age- related macular degeneration, which commonly occurs in elderly people."

"SUPER LUTEIN is a phenomenal combination of nutrients essential for promoting the natural maintenance of eye health and overall wellbeing. The ingredients are a specially designed, well-balanced mixture of nutritional supplements required by the body to function properly, yet they are not produced by the body."

"FloraGLO™ Lutein* is the main ingredient in SUPER LUTEIN. Lutein itself is a carotenoid nutrient originating from plants. In the body, lutein is present in the skin and in high concentration in the macula, where it is a necessary component for healthy vision. It is not produced by the body, and so must be obtained by absorption through the digestive system. FloraGLO™ Lutein holds the top market share for lutein supply in supplements. It is produced from organically grown, hand-picked African marigolds; the lutein esters being obtained using a patented production method involving advanced extraction, crystallization and purification processes. It was the first lutein to be approved for use by the US Food and Drug Administration and has received Generally Recognized as Safe (GRAS) certification. Studies have proven that FloraGlo™ Lutein offers better bioavailability than lutein from spinach."

"In addition to the [lutein + zeaxanthin] carotenoid combination protecting the eyes from damaging UV rays and blue light, the triple combination of [lutein + zeaxanthin + anthocyanin] contributes to providing the proper levels of nutrition required by the eyes to maintain good vision. Anthocyanin by itself is beneficial for improving blood flow."

"Ever see the rust on a bicycle, car or pieces of metal left outside for a long period of time? That's caused by oxidation: oxygen in the air slowly breaking down the metal, weakening it and eventually destroying it. Oxidation occurs inside our bodies too! Research has proven that many diseases commonly affecting us today are caused by this very action. The reason, our bodies are lacking a sufficient level of antioxidants to prevent free radicals from attacking our cells."

"SUPER LUTEIN delivers six carotenoids (lutein, zeaxanthin, crocetin, α-carotene, β-carotene and lycopene), anthocyanin and DHA to the body. The first seven are all phytochemicals, and the last is an omega(Ω)-3 fatty acid derived from fish oil. The carotenoids and anthocyanin are antioxidants that actively play a part in neutralizing the free radicals created through oxidizing processes."

"DHA is known to improve blood flow, contribute to reducing bad cholesterol count, support brain development and protect the ophthalmic nerve. Not many parents are aware of the benefits of DHA for the optimal and cognitive development of their children, and it has been reported that lutein and DHA are found in breast milk: the combination of which is said to contribute to infant eye, brain and cognitive development through breastfeeding."

"Extracted from high-quality gardenia, crocetin is a material receiving much attention from researchers in the biochemistry field. Collaborating with gardenia farmers in Taiwan, Riken Vitamin Co., Ltd. is experienced at cultivating stable quantities of high-quality gardenia fruit, which are then exported to Japan for extraction and refinement under stringent quality control."

"I have food allergies. Is SUPER LUTEIN safe for me to consume? Please do not consume SUPER LUTEIN if you are allergic to wheat, fish or gelatin, which are ingredients present in small quantities. Please be especially careful if you are allergic to wheat. Should allergenic symptoms appear, stop taking SUPER LUTEIN immediately and consult your healthcare professional."
After reading the list of ingredients, it's worth noting that SUPER LUTEIN supplements contain both α AND β-carotene. Many supplements contain pure Beta-carotene but lack any α-carotene as part of the formulation. So what's the difference between α and β-carotene? Obviously they differ in chemical structure (different double bonds in their ring structure). More importantly, they differ in strength. Both α AND β-carotene are plant-derived and converted into Vitamin A (aka retinol) once ingested. But β-carotene is converted to TWICE as much Vitamin A as α-carotene, making it the more powerful of the two. Alternatively, α-carotene is less common. One caveat about taking carotene supplements — evidence has shown they can increase the risk of lung cancers in smokers, former smokers and asbestos workers. In one study, the negative effects of Beta-carotene administration actually persisted years after smokers stopped taking supplements. A succinct article on the adverse effects of high-dose β-carotene is available at Web MD and discusses the outcome from the CADET study– including a significantly increased risk of lung cancer, heart disease and death in the study group of smokers and asbestos workers.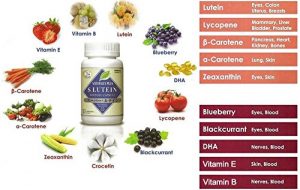 More information on SUPER LUTEIN is available at the company website.
**Disclaimer: Actual product packaging and materials may contain different information than what is shown on our website. We recommend that you do not solely rely on the information presented here and that you always read labels, warnings, and directions before using or consuming any product. For additional information about a product, please contact the manufacturer directly. Content on this site is for reference purposes and is not intended to substitute for advice given by a physician, pharmacist, or other licensed health-care professional. You should not use this information as self-diagnosis or for treating a health problem or disease. Contact your health-care provider immediately if you suspect that you have a medical problem. Information and statements regarding dietary supplements have not been evaluated by the Food and Drug Administration and are not intended to diagnose, treat, cure, or prevent any disease or health condition. We assume no liability for misstatements or inaccuracies about a manufacturer's products.